More Than Just Engineers
From planning runways, highways, or greenways to designing, surveying, or managing construction projects – we've got your back. It's why our clients are our top priority – because communities aren't shaped just by projects, but by people. It's why we're committed to being approachable, accessible, and responsive. It's why as your needs change, challenges arise, or timelines get shortened, we're your first phone call. And, it's why we give back through volunteering, mentoring, and supporting non-profits. Because the places where you live, work, and play – we call them home, too.
We believe in engineering the extra mile. It's what we do.

Top 100 Design Firm
awarded by ENR Southeast
2020, 2021, 2022, 2023

Best Firms to Work For
awarded by Zweig Group
2020, 2021, 2022, 2023

General Aviation Airport
Project of the Year
awarded by Georgia Airports Association
2013, 2018, 2020, 2022

Engineering Employer of the Year
awarded by Georgia Society of Professional Engineers
2022

James "Jim" M. Croy, Sr., PE
Engineering Impact Award
Georgia Society of Professional Engineers
2023

Gregory D. Teague, PE
Georgia 500 list
Georgia Trend
2023

Eddie Wade, PE
20 Under 40 Alumni list
Auburn Alumni Association
2023

Daniel B. Dobry, PE, PTOE, AICP
Fellow of the Institute of
Transportation Engineers (ITE)
2022-Present
We are a Company Driven by Community
Our commitment to community is more than just company policy – it's personal. Our employees engage fully and earnestly with the communities we serve through support for non-profits, mentorship of young talent, and work on projects that improve quality of life. We also encourage our employees to build relationships, further develop their skills, and follow their passions. We believe in community before company.
Both individually and as a firm, Croy and our team members are involved in the following organizations having an impact on the communities where we live, work, and play.
What We Believe
Can excellent engineering change the world? We think so, at least in our corner of it. We intentionally build a culture of quality, transparency, and authenticity to create a positive impact. You'll reap the benefits in every interaction with us.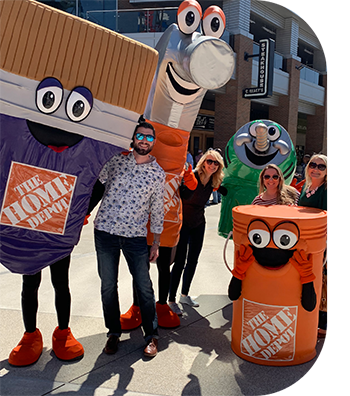 "Croy is truly dedicated to supporting local communities. In small cities like ours, while projects are typically not large, they often have a greater impact on the community as a whole. My experience has been that many firms fail to see this and instead give their attention to bigger cities with bigger projects. Croy is different. Their partnership and efforts have helped to make a positive difference in our city. And, it's more than a company belief – their employees genuinely care about the success of the place and people they are impacting.

Jesse E. Turner

City of Loretto, Tennessee
Friendly People, Proven Results
Delivering happiness is our goal. Our people are how we do it.