James M. "Jim" Croy, Sr., PE, founder of Georgia-based, full-service consulting firm Croy, was honored as the recipient of the Engineering Impact Award during the annual Georgia Engineering Awards, hosted by the American Council of Engineering Companies of Georgia (ACEC Georgia) and the Georgia Society of Professional Engineers (GSPE). According to ACEC Georgia, the Engineering Impact Award is given to an individual in the private sector whose outstanding leadership and achievements have benefitted the entire state of Georgia.
"It's no question that Jim has had an incredible impact on Croy, as well as our state's transportation system," said Gregory D. Teague, PE, CEO of Croy. "It is a true joy to see him recognized for the impact he has made, and that has so clearly rippled far beyond our firm. We are grateful to have such a leader associated with our organization, and I'm honored to call him a friend."
In his more than 50-year career, Croy has served in various roles such as former Director of Cobb County Department of Transportation (DOT), Deputy Director of the Georgia Regional Transportation Authority (GRTA), and Executive Director of the State Road and Tollway Authority (SRTA). In 2005, he founded Croy-MSE (later re-named Croy Engineering) alongside former Georgia Governor Roy Barnes and developer John Williams. Under his leadership, the Marietta-based consulting firm has grown from a small company of 17 employees and one office location in Marietta to nearly 120 employees in three Southeastern states.
"Jim is a visionary leader and an extraordinary engineer," says Michael L. "Sully" Sullivan, President and CEO of ACEC Georgia. "During his exceptional career, he has remained committed to the industry and the betterment of communities across the state. His robust portfolio of projects and initiatives will leave a lasting legacy for Georgia residents, making him an excellent honoree for our Engineering Impact Award."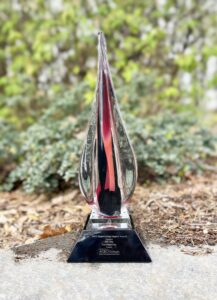 Through his various positions, Croy's engineering work is represented through several projects across Marietta, Cobb County, and the entire state of Georgia. Notable projects include the East-West Connector, Ernest Barrett Parkway, the Skip Spann Connector, the Kennedy Interchange, along with the Windy Hill Boulevard project currently under construction. His engineering efforts have led to traffic congestion relief, safety improvements, and quality of life enhancements for residents across the region.
In addition, Croy is a firm believer in contributing philanthropically to his home community, which has largely been Marietta and Cobb County. He has consistently been a champion for others through his generous support of many of the area's non-profit organizations. This support includes personal and company financial contributions to organizations such as The Center for Family Resources, liveSAFE Resources, and the Cobb Community Foundation, among others.
As a testament to his contributions to the engineering industry and local community, Croy has been recognized as a "Most Influential Georgian" by InsiderAdvantage's JAMES Magazine for three consecutive years (2020-2022), included in the 2022 list of Georgia's Most Influential Leaders" by Georgia Trend Magazine, received the Visionary Award from the Cobb Community Relations Council, honored with a special recognition from liveSAFE Resources, recognized for outstanding service by the City of Marietta, and, finally, awarded with the Community Champion Award (a "Townie") from the Town Center Community Improvement District.